Take-Out Slides Dangerous For Baseball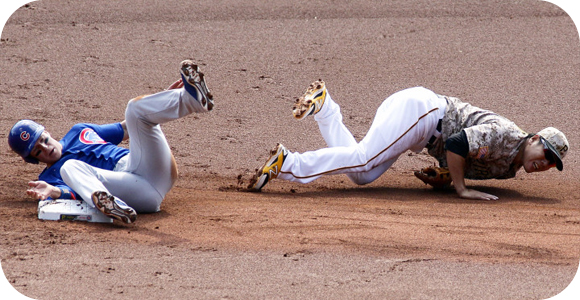 In baseball, whether a player is stealing a base or trying to make it to base before getting picked off, you will always encounter the famous slide. However, there are all kinds of slides, and some can be quite dangerous and malicious if done incorrectly. This is where a lot of fans start to question whether the take-out slides should be regulated and controlled, or simply outright banned.
This is a hard question to answer seeing as how these kinds of slides have been part of the MLB legacy for decades. This question becomes more apparent with the recent run in that the Chicago Cubs player Chris Coghlan slid into Pittsbrugh Pirates shortstop Jung Ho Kang. As Coghlan slid into second base, he ran into Kang, who went down pretty hard.
After that incident, Kang had to be taken off the field by stretcher, where he underwent surgery on Thursday night to repair a broken left leg and a torn knee ligament. This is a terrible accident, as it could leave the wonder kid that arrived only last winter to the United States, and has helped the Pirates in a huge way. Now, they will be without their rookie star in the postseason.
Now, fans on both sides are either arguing that it was a simple accident or that it was a dirty play, meant to take Kang out. We won't really know the truth, but from Kang's own perspective, "It is unfortunate that what would be considered heads up baseball would cause such a serious injury. That said, Coghlan was playing the game the way it should be played. I'm confident he meant me no harm. I appreciate everyone's support."
Coghlan was also apologetic and expressed remorse for the act; that had a similar incident happen in 2009 against Tampa Bay infielder Akinori Iwamura. Slides will always be part of baseball, but when a player's career and health are on the line, there should be some form of control to help limit the injuries.