Cubs Jake Arrieta Shuts Down Dodgers In Baseball No-Hitter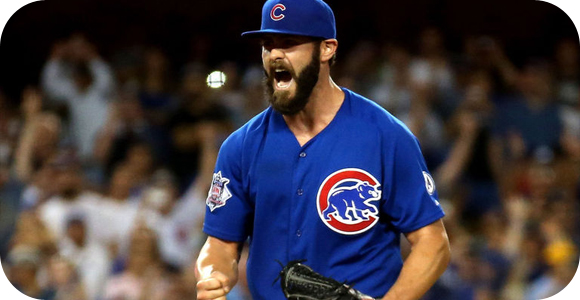 The Chicago Cubs right-handed pitcher, Jake Arrieta joined the exclusive baseball group on Sunday night, as he threw a no-hitter against the Los Angeles Dodgers. Arrieta threw a total of 116 pitches, which enough to take down the Dodgers line-up that night. The worst part is that the same line-up was no-hit against the Houston Astros pitcher, Mike Fiers, just nine days earlier.
He struck out 12 hitters, leading his team to a 2-0 victory, while only allowing two Dodgers to reach base. He walked Jimmy Rollins during the sixth inning, and Enrique Hernandez reached first base after a fielding error by Starlin Castro in the third inning, but it was not considered a hit.
Arrieta was on fire, as he stated during his post-game interview, "It went by so quick, feels like that could have been just five innings, the way it played out. My stuff was good, commanded the ball well … I'm kind of speechless right now." He showed his true talent when he struck out the last three batters in the ninth inning:
Jake Arrieta, LIKE A BOSS in the 9th. #DomiNoNo
He struck out Justin Turner, Rollins, and Chase Utley, and became one of three pitchers to strike out the side to end a no-hitter. Arrieta's no-hitter marked the 14th in franchise history, and the first sine Carlos Zambrano accomplished it in 2008 against the Houston Astros at Miller Park in Milwaukee. It hasn't been the first time he has had the opportunity to get a no-hitter, as he was up for one in September of last year against the Cincinnati Reds, where Brandon Phillips hit a double to end it.
After the victory, Arrieta moved to 6-0 with a 0.43 ERA in August, at the same time getting his 17th win of the season and dropping his season ERA to a 2.11.