Milwaukee Brewers' Will Smith Ejected From Baseball Game For Substance On Arm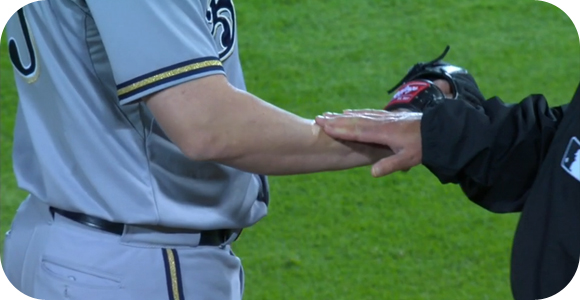 During the match between the Milwaukee Brewers and the Atlanta Braves, it seems that manager Fredi Gonzalez noticed something on the arm of baseball pitcher Will Smith while he was on the mound. After closer inspection, the umpires found that he did indeed have a foreign, and illegal to have while pitching, substance on his arm.
This prompted a quick dismissal from the game, accompanied by quite a few Boo's from the crowd; not to mention a disgruntled look on Smith's face. The substance on Smith's arm was a mixture of rosin and sunscreen, which he says was used during warm up in the bull pen and simply forgot to remove it from his skin before going out to relieve his fellow pitcher.
It may seem like a dumb move by either the umpires or Smith, but it could really happen to anyone. There are times where fans put sunscreen on during baseball season and we can see that they forgot to spread it around. People simply forget that they have a foreign substance on their skin.
However, we are talking about professionals. This is embarrassing not only for Smith, but the Brewers as well. Hopefully they learn to towel off anything before walking out onto the field again. Watch the video of the dismissal, as well as Smith's reaction to it here.